Apple's new updated OS for mobiles and tablets introduces many new features you may not yet know about. This post will explain all the new settings you can toggle with.
Battery
A key new addition is the all-new battery menu. This screen (along with providing information on battery usage) will allow you to manually engage Low Power Mode. A feature that will extend your device's battery life at the expense of performance and functionality. Good for when you're out and about.
Notifications
There is now an option to set the sort order to 'recent'. Doing so will allow you to see your notifications in a reverse chronological order, that is, the newest one will remain on top.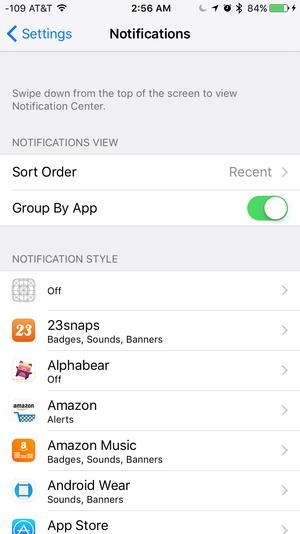 Whilst the sort order is in recent mode, you can also toggle the 'group by app' setting. This will separate all your notifications by application as well as chronology. When you get a new notification, all the notifications for the app will be sent straight to the top of your phone. it's a very useful feature for keeping track of an active Facebook conversation without having to unlock your phone. Leaving the 'group by app' slider off will mean messages are automatically grouped by day; allowing you to dismiss a whole day's worth of notifications all at once.
If you want to prioritize which app's notifications remain on the top of your screen, you can set the sort order to manual an slide the applications into whatever order you desire. Of course manual mode will obviate the need for the Group by app slider as notifications will already be grouped by app.
The 'notification style' subgroup still remains the same as in IOS 8; alphabetized and allowing you to chose whether notifications for a specific app are displayed via banner, alert or not at all, and whether it will be viewable in the lock screen.
Siri
Everybody's favourite virtual friend now has accent settings!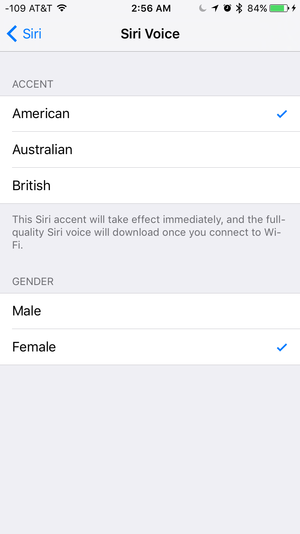 This means as well as having control over the gender and language of Apple's voice recognition software; you can also change his/her accent to Australian, British or American.
Spotlight search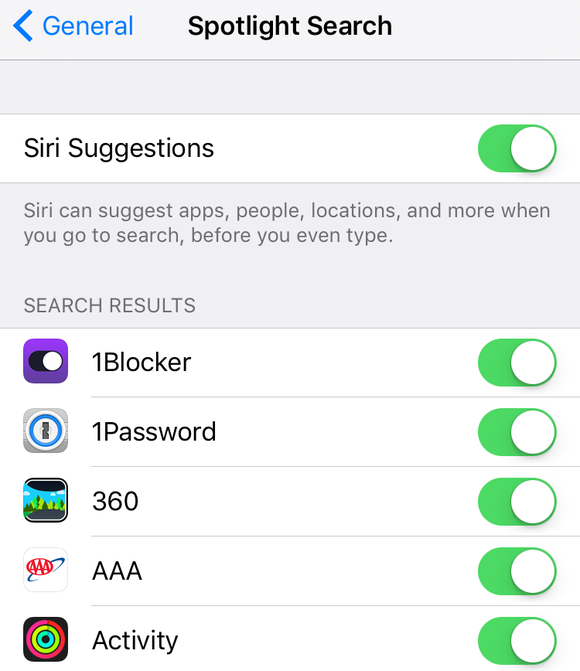 The main feature of spotlight search is the ability to enable or disable 'Siri suggestions'. Enabling this feature allows the  Spotlight page to load up suggestions before you even search for anything; somewhat pre-cognition style. However if you begin to abhor your own phone second guessing you; its very simple to switch off or toggle the scope of its search results.
Cellular
There have been few changes to the cellular settings, notable 'SIM PIN' now resides here rather than phone settings as it did in IOS 8. As you may already know, 'SIM PIN' is a very useful extra measure of protection. If your phone were stolen; having a PIN on would disallow anyone to use your SIM card or access your contacts. However this also means you will have to type your PIN in every time the device is rebooted or you swap your SIM card to another device. As such the option is set off by default.
Something useful to note is that your SIM already has a default PIN assigned to it. For Sprint and T-mobile it is 1234 and 1111 for AT&T or Verizon users. (Who could ever guess such random PINs?) Once the default PIN is entered, you can tap 'change PIN' to well, change your PIN. This can be between 4-8 digits of your choosing. Be warned that if you enter your PIN wrong 3 times in a row; the SIM will be permanently locked and you will have to get a new one.
A cool-sounding addition to the cellular screen is the 'Wi-Fi assist' button.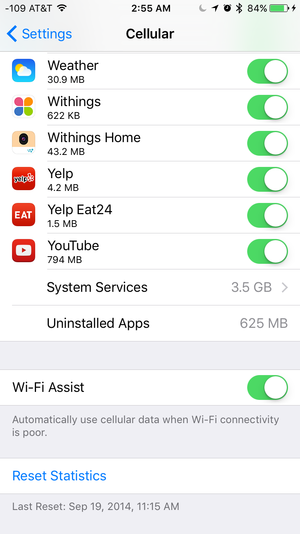 This nifty thing is on by default as it uses a small portion of your cellular data to boost connection to a weak Wi-Fi signal. So its useful if you can spare the data, but without a good mobile internet package you may find yourself paying for this option.
Handoff and suggested Apps
First seen in the IOS 8 Yosemite update, Handoff lets you pass a task from one device to another.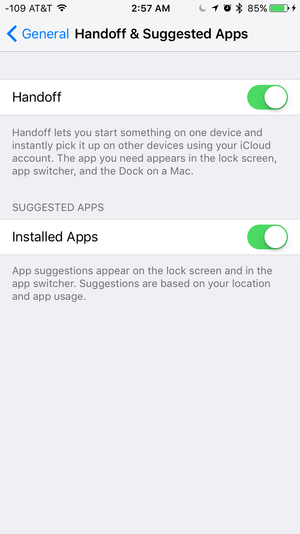 So say you're writing an email on your phone and its on low battery, don't despair! you need only use Handoff to transfer the email draft to another apple device.
Accessibility
Found as a subsection of General settings, there have been various small changes to the accessibility centre. Here is a list of  the key points.
Shake to undo: At long last the shake-to-undo function can be toggled on/off.
Vibration: Think of this as a master switch; allowing you to turn off all vibrations on your device including emergency alerts.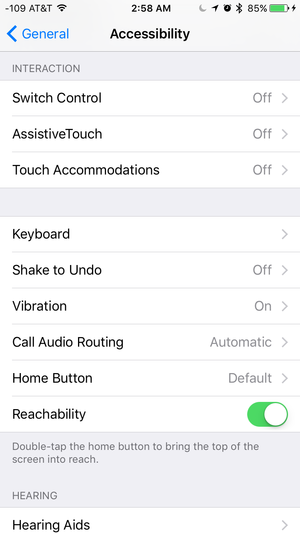 Touch Accommodations: This is a brand new menu available in IOS 9 that lets you modify things like the duration in which multiple touches will only register as a single touch and how long you have to touch the screen for it to register as a 'tap-and-hold'.
So if some of your touches or swipes seem to be lost-in-translation by your device, playing around with these settings may most definitely improve your user experience.
Restrictions
This is perhaps the most useful section if you have kids or are just generally distrustful with your phone.

This is the go-to screen for temporarily disabling features like installing new apps or face-timing. Furthermore if you despise apps constantly asking if they can connect to Facebook, from here you can click on the Facebook app and tap 'Don't allow changes' and that will stop this annoyance ever again occurring.
Touch ID and Passcode
A couple of new features here allow you to reply to messages from the lock screen as well as access the the Wallet app.
Mail, Contacts, Calenders
'Contacts found in mail' is a new switch that lets your Apple device scan through your emails to retrieve contact information such as phone numbers or email addresses. This can be used in conjunction with Siri to call or email someone without having to search for their information yourself.
Whilst there are other interesting and useful updates to the IOS 9 settings menu; these listed are the most notable and substantial to date.